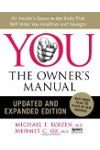 Some data shows that taking vitamin E-especially mixed tocopherols-decreases the risk of prostate cancer.

But if you're taking a statin medication, you shouldn't take more than 100 IU of mixed tocopherols or vitamin E because it inhibits the statin's function by 40 percent.

The vitamin E will have no effect on cholesterol level, though it will inhibit the anti-inflammatory effect of statins such as Zocor, Lipitor, and Crestor.