Here are selected food sources of vitamin C from the U.S. Department of Agriculture (USDA) National Nutrient Database for Standard Reference:
Red sweet pepper, raw, 1/2 cup
Kiwi fruit, 1 medium
Orange, 1 medium
Green sweet pepper, raw, 1/2 cup
Grapefruit juice, 3/4 cup
Vegetable juice cocktail, 3/4 cup
Strawberries, 1/2 cup
While most people think of citrus fruits as the best source of vitamin C, vegetables also contain high levels, especially peppers, broccoli, and Brussels sprouts. Vitamin C is destroyed by exposure to air, so eating fresh foods as quickly as possible is best. Although a salad from a salad bar is a healthy lunch choice, the vitamin C content of the fruits and vegetables is only a fraction of what it would be if the salad were made fresh. For example, freshly sliced cucumbers, if left standing, lose between 41 and 49 percent of their vitamin C content within the first three hours. A sliced cantaloupe, left uncovered in the refrigerator, loses 35 percent of its vitamin C content in less than twenty-four hours.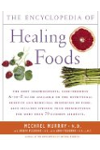 More About this Book
Encyclopedia of Healing Foods
From the bestselling authors of The Encyclopedia of Natural Medicine, the most comprehensive and practical guide available to the nutritional benefits and medicinal properties of virtually everything...
Women need to consume 75 milligrams of vitamin C daily, and men need to consume 90 milligrams daily to meet their needs. Smoking accelerates the breakdown and elimination of vitamin C from the body, so smokers need to consume an additional 35 milligrams of vitamin C every day to make up for these losses.
Americans meet about 90 percent of their vitamin C needs by consuming fruits and vegetables, with orange and/or grapefruit juice being the most popular source in the diet. One serving of either juice will just about meet an adult's daily needs. Tomatoes, peppers, potatoes, broccoli, oranges, and cantaloupe are also excellent sources:
Orange, 1 medium = 70 milligrams
Kiwi, 1 = 71 milligrams
Strawberries, 1 cup = 89 milligrams
Cantaloupe, 1 cup = 59 milligrams
Red pepper, 1 raw = 226 milligrams
Broccoli, boiled, 1 cup = 101 milligrams
Veggie juice, low sodium, 1 cup = 67 milligrams Many fruits and vegetables are good sources of vitamin C. Among fruits, choose:
citrus fruits such as orange and grapefruit
strawberries, raspberries, blueberries and cranberries
cantaloupe
watermelon
pineapple
mango
papaya
kiwi fruit
Among vegetables, good sources of vitamin C include:
green and red peppers
broccoli
cauliflower
leafy greens like spinach, cabbage and turnip greens
winter squash
brussels sprouts
tomatoes
sweet and white potatoes
Non-starchy fruits and vegetables are a great addition to a weight-loss diet. Try to eat whole fruit, rather than drinking fruit juice, and when preparing vegetables, boil briefly, steam, microwave, bake or broil rather than fry or deep-fry.
Continue Learning about Vitamin C