Pellagra is a disease resulting from niacin deficiency; it affects the skin, the digestive tract and the nervous system. The disease has virtually disappeared in the developed world. In the U.S. alcoholism is the main cause of niacin deficiency.
Pellagra was a common disease in Spain and Italy in the eighteenth century. In Italian, pellagra means "rough skin". It is characterized by the "three Ds" of pellagra: dermatitis, dementia, and diarrhea. The skin develops a cracked, scaly dermatitis; the brain does not function properly, leading to confusion and dementia; and diarrhea results from the impaired manufacture of the mucous lining of the gastrointestinal tract. Pellagra is now known to be due to a severe deficiency of niacin and tryptophan.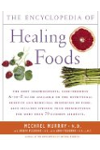 More About this Book
Encyclopedia of Healing Foods
From the bestselling authors of The Encyclopedia of Natural Medicine, the most comprehensive and practical guide available to the nutritional benefits and medicinal properties of virtually everything...
Continue Learning about Vitamin B3 Niacin