Coxsackievirus (aka hand, foot, and mouth disease) is a virus that causes ulcers and blisters in the mouth, on the hands, feet, trunk, and everywhere else. And it usually comes with an unpleasant side order of high fever and general achiness.
Unfortunately, hand, foot, and mouth disease (HFMD) is contagious until it's gone. Pregnant moms should stay away from this one, especially in the first and third trimesters. (If you are pregnant and have a child with hand, foot, and mouth disease, you can be the Masked Mommy and wear a surgical mask when within three feet of your child.)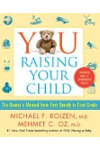 Continue Learning about Viral Infections

Viral infections like herpes simplex, respiratory syncytial virus (RSV), chicken pox and rotavirus are infections caused by a virus instead of a bacterium. Viral infections do not respond to antibiotics, but some specific viruses ...
like influenza A and B can be treated with certain antiviral medications. Most commonly, treatment for viral infections includes drinking lots of fluids, getting rest, eating well and letting the illness run its course.
More