The best way to reduce hot flashes is to keep your training intensity low to moderate. Those who exercise at very high-intensities such as sprinting or maximal lifting are at a higher risk for having a hot flash.
Stress is also a trigger for hot flashes and exercise has been shown to reduce stress levels and increase the release of endorphins. So exercise is important, but very high intensity exercise can actually cause hot flashes.
The intensity at which you exercise is vital to hot flashes symptom reduction, with moderate exertion delivering the best results. Cardiovascular exercise performed at an intensity of 65 to 75 percent of your maximal heart rate (220 minus your age, multiplied by 65 or 75 percent) will increase the production of neurotransmitter serotonin, which positively affects mood and the ability to establish restful sleep patterns. Exercise also increases endorphin levels, which can in turn increase your pain threshold. And because brain and the body learn through repetition, repeating exercise is crucial.

Listen to your body and progress slowly. When exercise is performed at a high intensity (you are huffing and puffing), stress -- a major trigger of hot flashes -- can be increased. Moderate exercise repeated three to five times per week will bring better results than intense exercise. Relax!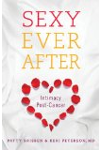 More About this Book
Sexy Ever After: Intimacy Post-Cancer
Recent studies show that 40-100 percent of men and women who have been treated for cancer have experienced some level of sexual dysfunction. Sexy Ever After: Intimacy Post-Cancer will help you...
Continue Learning about Types Of Exercise


Exercise provides many health benefits - from fitness to increased physical and mental energy. In order to prepare yourself for a exercise routine, you need to research which exercise is right for you and how to fit a new exercise ...
e program into your daily schedule.
More