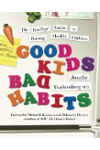 Children who get a lot of practice communicating within their families will have a great advantage when it comes to school and other social settings. It's much easier for a child to play well with other kids his age if he feels respected and connected within his own family.
Leave time during the week for unstructured play. Skip the movies and video games and let your kids use their own creativity to fill some of their time. I try to keep at least a couple of nights open for my kids to have some creative play time with either siblings or friends (or both!). These "empty" hours teach them how to create their own entertainment. Many kids today are so overscheduled with activities that they don't have much time for simple play dates.
From Good Kids, Bad Habits: The RealAge Guide to Raising Healthy Children by Jennifer Trachtenberg.