Experts agree that a huge amount of your child's cognitive development occurs before the age of three, long before he even enters school. The neurological connections made during the first three years affect how children organize and coordinate information, how they reason, and how they come to solve problems. That means your child's experiences in the first few years of life are crucial to his future success in school and in life. So, you really are your child's first and most important teacher!

The more interactive and language-rich you can make your child's preschool environment, the better. By consistently asking questions, explaining answers, and engaging in conversation, you provide the stimulation your child needs. Children who are continually stimulated by language tend to score higher on intellectual and language tests. Formal schooling then builds on the foundation that you and the other caregivers in your child's life help form in early childhood.

From Good Kids, Bad Habits: The RealAge Guide to Raising Healthy Children by Jennifer Trachtenberg.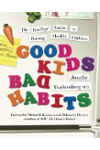 Continue Learning about Toddlers Development