Tea needs to be kept away from heat, light, air, and moisture. The best way to store it is at room temperature in an airtight tea canister. Unlike coffee, you cannot wrap it up and put it in the freezer. Tea will lose its flavor and scent quickly if stored in fancy, purely decorative tea containers or kept near a heat source, such as a stove or next to the toaster in your kitchen. A double-walled stainless steel tea tin is the best way to keep your tea fresh for up to a year.
While selecting tea is important, more important is how you store it. Tea will degrade if exposed to heat, moisture, or light, so it is important to store it properly. While properly sealed and stored tea can maintain its quality for up to one year, we encourage using it up much sooner. To preserve tea, always place loose tea in a bottle or canister with a tight seal and in a cupboard away from light, heat, and moisture. In addition, consider transferring tea bags contained in flimsy cardboard boxes and wrapped in paper to canisters or plastic bags.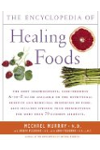 More About this Book
Encyclopedia of Healing Foods
From the bestselling authors of The Encyclopedia of Natural Medicine, the most comprehensive and practical guide available to the nutritional benefits and medicinal properties of virtually everything...
Continue Learning about Tea & Health