Infants under six months should be kept out of direct sunlight as much as possible. Their skin is not yet protected by melanin. So when you take your baby outside:
Cover up with protective clothing and a sun hat. The clothing should be tightly woven but loose-fitting, for comfort.
Make shade. Use the stroller's canopy or hood. If you can't find a shady spot, use an umbrella.
Avoid midday sun. Take walks in the early morning or late afternoon.
Follow product warnings for sunscreens on infants less than six months old. Most manufacturers advise against using sunscreens on infants or advise parents and caregivers to consult a doctor first. The American Academy of Pediatrics says that small amounts of sunscreen can be used on infants as a last resort when shade can't be found.
You should protect your baby from the damaging effects of sun exposure by limiting the amount of time he or she is outside between the hours of 10:00 and 2:00. When outside during that time, make sure your baby is appropriately covered from head to toes and that your baby's face is in the shade.
One way to preserve your child's beautiful skin is to protect it from the sun. The best line of defense is to stay in the shade. But if you are going to be in the sun, then make sure to put a tightly woven wide-brimmed hat and sunglasses on your child and to use SPF 30 nonparticle zinc-oxide-based sunscreen. You may have to try out a number of different hats to find one your child will tolerate. If he's really good at getting the hats off, try one with a foolproof strap for under the chin and try to distract the baby until he forgets it's on. In the first six months, use a sunblock with titanium dioxide, which acts as a barrier; other blocks may get absorbed through the skin.

After that, you can continue with the zinc oxide -- our preference, because it has the least potential for long-term toxicity -- or use your favorite sunscreen, making sure to apply it thickly and to wash it all off with soap and water at the end of the day. Sunscreen should protect against both UVA and UVB rays and have a minimum SPF (sun protection factor) of 15, but we recommend SPF 30 to provide the greatest protection. When getting ready to go out in the sun, don't forget to hit easy-to-miss spots, such as the ears and along the line of the part in the hair. Reapply frequently, especially after swimming. It's not a bad idea -- in fact, it's quite a good idea -- to get your child
a tightly woven long-sleeve water shirt that has SPF protection. The kids think they're cool, and you have less lotion (and less sun exposure) to worry about. Also check out sunshade options for your stroller. The fewer auxiliary chemical products you need to deal with and your baby needs to tolerate, the better. And avoid the sun between 10 and 2, when it's most likely to cause burns.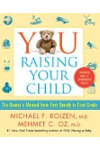 "Children have very sensitive skin and can burn easily if exposed to the sun. Even little ones with darker skin are at risk. To protect your child from an uncomfortable sunburn and skin cancer later in life, keep your child's skin covered with light clothing and keep her out of direct sunlight as much as possible. You can also purchase clothing with built-in sun protection. For babies younger than 6 months, sunscreen may be used on small areas of the body such as the face and back of the hands if adequate clothing and shade are not available. After 6 months of age, slather her with sunscreen (look for broad-spectrum and SPF 30 or higher) 30 minutes prior to heading outdoors. Barrier sunscreens such as zinc oxide or titanium dioxide are usually best. Whichever brand you choose, test it out on your baby's back for a reaction before applying it all over. Reapply frequently--every 1 to 2 hours and after getting wet or sweating. Sunglasses with UV protections will shield her eyes and a hat will protect her head. Keeping them on is challenging, but play a game or make a fun name for it (robot glasses or zookeeper hat) and be a good role model with sun protection yourself."
Mommy Calls: Dr. Tanya Answers Parents' Top 101 Questions About Babies and Toddlers
Your baby's skin continues to develop and mature after birth and requires special care to protect it from the sun. Here are some recommendations to keep your child's skin protected.
• Sun avoidance by seeking shade is the surest way to decrease sun exposure. Planning outdoor activities in the early morning, late afternoon, or evening prevents sun exposure during midday, when the sun's harmful rays are the strongest.
• Sun protective clothing made of special UV (ultraviolet) blocking fabrics with long sleeves and pants keep your baby safely covered. Hats with a 3-4 inch brim better protect baby's face than caps or visors.

• And finally, sunscreen with a "Sun Protection Factor" (SPF) of 30 or higher can be used. Importantly, children under 6 months of age may only use sunblocks with "physical blockers" that contain only either zinc oxide or titanium dioxide as the active ingredient(s). Once your child is over 6 months old, he or she can continue to use these physical blockers, or you can choose to apply a "chemical sunscreen." Chemical sunscreens include all other active ingredients listed in sunscreens. Examples of chemical sunscreens are avobenzone, salicylates, ecamsule, homosalate, etc.
Babies' skin is much more vulnerable to the sun's rays than that of adults, or even that of older children. Your baby's skin will not show the effects of sun exposure right away, and their fragile skin can be damaged by the sun in as little as 15 minutes. It's a good idea to keep your baby away from direct sun exposure altogether. Keep your baby in the shade, and cover your baby's skin with clothing whenever possible. If your baby must be in the direct sunlight, check the labels on sunscreen before applying to the areas of your baby's skin that are exposed.
Continue Learning about Sun Care