What are the different types of chakras that my energetic anatomy has?
Your energetic anatomy has three types of chakras: major chakras, which are 3 to 4 inches in diameter; minor chakras, which are 1 to 2 inches in diameter; and mini-chakras, which are less than 1 inch in diameter. (Note: All sizes are for a healthy adult.)
There are 11 major chakras, three of which - the heart, solar plexus, and spleen - have a front and back aspect. Thus, with the front and back heart, front and back solar plexus, and front and back spleen, you will work with a total of 14 of these major power centers. Starting at the top of the head and working down the front of the body, through the legs and then up the back, the major chakras are: the crown, the forehead, the ajna (or brows), the throat, the front heart, the front solar plexus, the front spleen, the navel, the sex, the basic, the meng mein (or kidneys), the back spleen, the back solar plexus, and the back heart. The minor and mini-chakras are located throughout the body in the jaw, hands, feet, arms, and legs.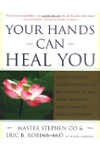 Continue Learning about Specific Mind-Body Treatments
From meditation to prayer, there is an array of mind-body treatments which help one find peace and healing.