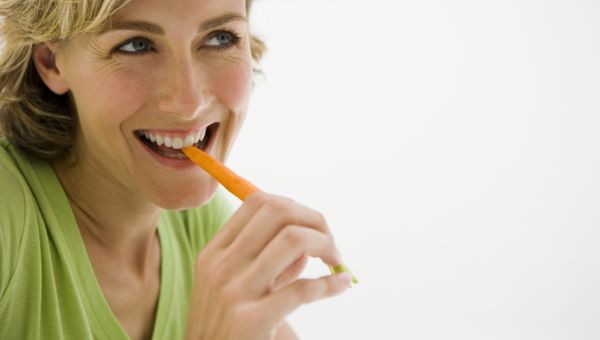 Every house needs fire-extinguisher foods -- good-for-you snacks that will put out three-alarm starvation fires. Ideally, you'll want to always be satisfied and not hungry, meaning you can go much longer without food. But sometimes, we know, it feels as if you haven't eaten since junior year of high school. Here's our list of foods to reach for when that happens:
Cut-up vegetables. Cut them, bag them, eat them. Nothing wrong with baby carrots, grape tomatoes, and broccoli florets, but if you prefer jicama, sugar snaps, and orange pepper strips, go for it.
Sauteed vegetables. Saute them in olive oil with chopped garlic, red pepper flakes, or a good dash of turmeric. Refrigerate, and then reheat when you need a snack.
Nuts. A handful of almonds, peanuts, or walnuts. (But just a handful; as healthy as they are, they're still high-calorie foods.)
Edamame. Another name for soybeans; look for microwave bags in the frozen food section.
Steel-cut oats. If you're worried about time in the morning, cook up a week's worth of oatmeal -- it's full of filling fiber -- and store in the refrigerator. That may sound as appetizing as a slice of baked wrapping paper, but reheated oats actually taste great. Add some raisins and walnuts for sweetness and crunch.
Medically reviewed in September 2019.