You can detect lichen sclerosus using the below methods:
Self-Examination
Checking yourself with a mirror periodically, when you don't have symptoms, can help you become familiar with what your vulva normally looks like. It will also enable you to detect changes and describe them to your health care provider.
Medical Examination
If you experience symptoms that either keep coming back or never entirely go away, it is very important to receive a thorough physical examination by a doctor or practitioner who is familiar with vulvar conditions and who can have a biopsy performed if abnormal-appearing areas are seen or if symptoms persist after treatment. A very small sample of tissue, about the size of a match head, which can be taken in the office with a little numbing medicine, can be examined under a microscope and can sometimes provide the diagnosis.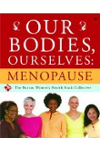 More About this Book
Our Bodies, Ourselves: Menopause
FROM THE EDITORS OF THE CLASSIC "BIBLE OF WOMEN'S HEALTH," A TRUSTWORTHY, UP-TO-DATE GUIDE TO HELP EVERY WOMAN NAVIGATE THE MENOPAUSE TRANSITION For decades, millions of women have relied on Our...
Continue Learning about Skin Disorders