No, you cannot develop sickle cell anemia as an adult. It is an inherited condition and will be present from birth. In the United States, all births are screened for sickle cell anemia.
Continue Learning about Sickle Cell Disease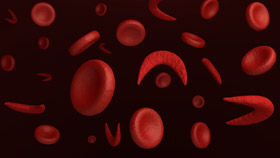 Sickle cell disease (SCD) is a group of inherited disorders in which hemoglobin, the protein in red blood cells that carries oxygen, becomes hard and sticky and looks like a sickle. The symptoms of sickle cell disease include abdo...
minal pain, bone pain, shortness of breath, delayed growth, fatigue, fever and chest pain. A bone marrow transplant may cure the disease; otherwise, treatment focuses on symptom management.
More