When you think about a body part being touched, the area of your brain that represents sensation to that body part "lights up," as if you that part actually were being touched. Energy orgasms work because we can stimulate our genitals with our brains. People who have energy orgasms are using their brains to generate those "turn on!" signals without external stimulation.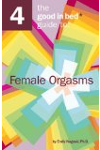 More About this Book
The Good in Bed Guide to Female Orgasms
Want to learn how to achieve 487 different kinds of orgasms?If so, you're reading the wrong guidebook. Despite what many in the media would have you believe, there's no such thing as a rainbow...
Continue Learning about Orgasm