Premature ejaculation (PE) isn't just about you. It also affects your partner; not just in how you're able to satisfy her sexually, but also in how she responds to, and deals with, your PE. Simply put, PE is a relationship issue.

If you've already had a frank discussion with your partner about PE, congratulations. You're already way ahead of most guys, who would probably rather deconstruct the latest episode of Gossip Girl than talk about PE. Sure, you might feel uncomfortable or embarrassed to bring it up, but this is one of the most important conversations you and your partner will ever have.

In fact, if you don't talk about PE with your partner, you can make it worse. She may not understand what's happening -- and why -- and will feel confused. And you can't blame her for feeling that way. When you think about the differences between men's and women's sexuality and arousal, you can see why PE is a difficult concept for many women to grasp.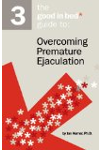 Continue Learning about Premature Ejaculation