If you experience premature ejaculation (PE), there are numerous precursors to having good sex in the bedroom:

• Set the stage to ensure that sex is going to happen in a comfortable, relaxing environment. Remember, reducing stressors is key to managing PE.

• Build as much anticipation and emotional connection as you can prior to sex. Loosen your lips and share a fantasy.

• Extend foreplay by combining your fantasizing with lots of kissing and touching. Talk and touch. Grab some massage oil and give her a full-body massage. Touch stimulates oxytocin in women, which is also known as the cuddle hormone and helps her relax into arousal and feel connected to you.

• Engage in PE-specific sex techniques, such as the perpendicular-penis positions.

• Know when to transition from foreplay into coreplay, the direct clitoral stimulation that will lead to orgasm.

• Become adept at clitoral stimulation, whether it's with your mouth, hands, or vibrator, or a combination of all three. Have confidence that you can bring her to orgasm without your penis.

• Get into the habit of letting her have her orgasm first and then following her orgasm with yours. Or if you want to aim for simultaneous orgasms, tell her to let you know when she is going to come and then transition into the female-superior position (woman on top). When she's had her orgasm first, it not only removes a lot of pressure, but also creates a context for you to continue with sex in a manner that allows you to tune into your own sensations and continue to focus on ejaculatory mastery.

• After she's had an orgasm, you may find that your own orgasm is quickly approaching, or that you may be able to delay it. You can also transition into positions that you wouldn't normally be able to enjoy as someone with PE, such as from behind.

• Cuddle and connect. Enjoy the post-sex connections to your partner.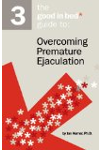 Continue Learning about Premature Ejaculation