The pioneering sex researchers Masters and Johnson first developed this four-stage model for understanding male sexual response back in the 1960s and it still holds true today:

Excitement. In this first phase, sexual tension builds up and you'll start to feel it -- and see it -- in your body. As you're stimulated, the blood vessels in your penis begin to fill with blood, which causes it to swell and harden. That's not the only body part that gets erect: your nipples, earlobes, lips, and even nostrils also swell and darken, and your testicles draw up closer to your body. Plus, your heart rate and breathing quicken and your blood pressure rises.

Plateau. You might notice that your excitement will start to plateau or level off before you get even more aroused. During this phase, your body approaches orgasm and you have a full erection. As you get ready to come, your abs and thighs tighten, your hands and feet clench, and your breath gets even quicker and more uneven.

Orgasm. For many people, this third stage is the best part of sex. During orgasm, all that tension that's been building up is finally released. The physical signs that started in the plateau phase -- higher blood pressure, rapid breathing, and muscle contractions -- kick into overdrive. This is also when you cross your point of ejaculatory inevitability and can't stop yourself from climaxing, no matter what.

Resolution. The final phase of sexual response occurs after your orgasm. It's basically a time for your body to relax: The tension seeps out of your muscles, your blood pressure sinks, and your excitement dissipates. Lots of guys feel sleepy during resolution and -- unless you're a teenager -- your penis will also take a break. This time, during which your body recovers after orgasm and you can't get an erection again right away, varies depending on your age and is called the refractory period.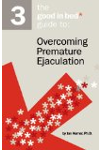 Continue Learning about Premature Ejaculation