When a woman gets sexually aroused, her body produces a clear, very slippery lubrication that is very close in consistency to a man's pre-ejaculatory fluid. This lubrication occurs when the glands that surround the opening of the vagina have increased blood flow to the surrounding tissues as a response to sexual arousal. This actually causes moisture to flow from the blood vessels and surrounding spongy tissue into the glands because of increased blood pressure in those tissues. As this moisture passes into the glands, they release this wonderful natural lubrication. You will notice a distinct difference between this lubrication and the normal moisture of the vagina. This natural lubrication is much slipperier and is mainly produced around the opening of the vagina. It is slippery enough that it can be spread to the inner vaginal wall as well as over the lips and even up to the clitoris.
Continue Learning about Sex and Relationships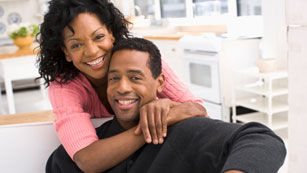 A healthy sex life and strong relationships contribute to your physical and mental health in many ways, from keeping you fit and youthful to helping you live a longer, happier life.