One option that some couples like to try if the man has a small penis is having him wear a penile sleeve over his penis during intercourse. Think of a condom with some extra substance to it. These sleeves are very stretchy and fit snugly over a man's erection. There is usually an extra inch or so at the tip, which gives the woman the sensation of extra length, and different bumps and ridges on the sides give the feeling of extra width.

Sleeves come in a variety of textures and can be quite stimulating for a woman because of this too. Look for sleeves made of silicone and stay away those made of jelly-like substances, which may contain harmful chemicals called pthlalates. As always, make sure to use water-soluble lube, which is compatible with silicone.
Continue Learning about Sex and Relationships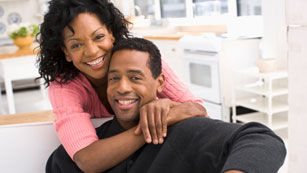 A healthy sex life and strong relationships contribute to your physical and mental health in many ways, from keeping you fit and youthful to helping you live a longer, happier life.