A survey found that couples willing to engage in new sexual behaviors were more likely to be satisfied with both their relationship and their sex life. Here's a bulleted list of things you could consider if you want to become more sexually adventurous:
go lingerie shopping together
watch an erotic film together, or read aloud from a book of erotica
have sex in every single room of the house
engage in some mutual masturbation
have a frantic, midday quickie
flip through a book of Kama Sutra positions and try out your faves
use handcuffs and blindfolds
try anal sex
play strip poker
share your secret sexual fantasies and fetishes, and pick one or two to try out
give each other lap dances
As one of the top libido-boosters, new sexual experiences are one of the cornerstones of fabulous sex.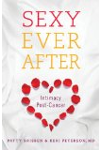 More About this Book
Sexy Ever After: Intimacy Post-Cancer
Recent studies show that 40-100 percent of men and women who have been treated for cancer have experienced some level of sexual dysfunction. Sexy Ever After: Intimacy Post-Cancer will help you...
Continue Learning about Sex and Relationships