Falls are serious at any age, but they are especially dangerous for older people who may have osteoporosis and are more likely to break a bone when they fall. When an older adult breaks a bone, the recovery may be difficult.

This content originally appeared online at Baptist Health South Florida.
When you fall as an older adult, the risk of breaking a hip is quite high due to thinning of the bones, particularly the hipbones.

It's not just the risk of breaking a hip that is of concern; it is the recovery from surgery. You are more bed-ridden and can't do as much, you get weaker and you are prone to pressure ulcers. Breaking a hip has a high mortality risk with it. Head injuries are another serious risk, which can result in a serious brain injury or death.

When some older adults fall and then subsequently deal with the consequences of even a minor fall, they become afraid to move and start to restrict their activities. This can lead to reduced socializing, which can lead to a decreased ability to do physical activities. The less people socialize and the less active they are, the worse cognitive impairment can become.

Trinity Health is a Catholic health care organization that acts in accordance with the Catholic tradition and does not condone or support all practices covered in this site. In case of emergency call 911. This site is educational and not a substitute for professional medical advice, always seek the advice of a qualified healthcare provider.
Osteoporotic fractures that happen as a result of falls can have serious—even lethal—consequences. The chance of dying in the six months after a hip fracture is 20 percent to 25 percent, and it's twice as high in men than in women. While men fall less frequently (15 percent of total falls), 40 percent of those men who do fall and break a hip die within the first year.

Falling isn't the minuscule health issue that some people may believe it to be. Being prone to falling and fracturing (or fracturing and then falling, which happens much less commonly) signals some other underlying pathology such as inflammation in your body, which makes you more susceptible to other acute types of problems like pneumonia.

Ultimately, osteoporosis gives you a sense of frailty that limits your activity and sets off a chain reaction that makes you feel and become old.

It may seem that a stumble on the sidewalk, a slip on the ice, or a trip over a doggie toy isn't so consequential. But realize that 30 percent of older people fall every year (5 percent or more of those resulting in fracture), falling is the leading cause of accidental death for people over 65, and a woman is more likely to die of complications from a hip fracture than of breast cancer, uterine cancer, and ovarian cancer combined.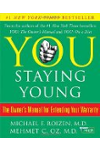 Continue Learning about Senior Health

Maintaining health in the senior years is a balance between staying as active as possible while planning for increased levels of care. Doing both will help make your elderly years more enjoyable. Learn more about senior health fro...
m our experts.
More