Teaching your children how to be keen observers is a gift they will use for a lifetime.

Now, how to do it? Simply practice, look, listen and learn with your children. When you are at the park playing or in the bagel store ordering breakfast use your powers of observation with your children by saying, "Let's play what do you see?" It's a little like "Where's Waldo?" in real life. "I see a baker making bagels," your child might say. Then add to that observation with another one, "I see a woman in a bright red sweater walking to a table, she looks hungry." Then your child adds, with more words and a more detailed observation, "I see a brown and white dog outside, waiting for his owner.

You can practice wondering aloud, who the people and animals are, what they are doing, what they might be thinking etc. This is a fun non-judgmental way to become a keen observer in the world. As your children's skills become more developed, you can discuss the meaning of people's behavior and why they do what they do.


Continue Learning about School Age Child Development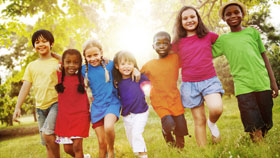 Your school-age child's development relies heavily on a stimulating, supportive environment and the healthy habits that you instill. Model good nutrition, fitness and hygiene, as well as activities like reading and learning new sk...
ills. It's important to stay active and involved in your child's intellectual development and growth. If you or your child's teacher are concerned about your child's development, talk to your pediatrician.
More