Well-fitted, custom-made mouthguards are essential for most sports, especially
those that are high contact, such as boxing, football, martial arts, kickboxing,
wrestling and street or ice hockey. They are also appropriate for soccer,
basketball, baseball, softball, rollerblading, skateboarding, and mountain
biking.
Contact sports, such as football, require the participants to use a mouthguard. However, when there is any risk of sudden jarring movement to the face or jaw, the use of a mouthguard should be considered. Many professional and non-professional athletes use mouthguards in sports where it is not required.
If you participate in any of the following activities, the American Dental Association (ADA) and the Academy for Sports Dentistry recommend that you wear a properly fitted mouthguard:
Acrobatics
Baseball
Basketball
Bicycling
Boxing
Equestrian events
Extreme sports
Field hockey
Football
Gymnastics
Handball
Ice hockey
Inline skating
Lacrosse
Martial arts
Racquetball
Rugby
Shotputting
Skateboarding
Skiing
Skydiving
Soccer
Softball
Squash
Surfing
Volleyball
Water polo
Weightlifting
Wrestling
Continue Learning about Safety & Preparedness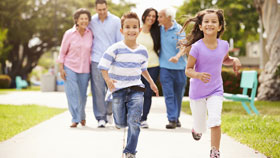 From learning how to keep household toxins away from your toddlers to feeding your family safe foods and ensuring your teens have the right sports equipment, it can be challenging to keep up with all the ways you need to keep your ...
family safe. Get tips on these and a host of other safety and preparedness issues from our experts.
More