The best way to make sure your refrigerator is cool enough (below 40 degrees Fahrenheit) to keep foods safe is to use a refrigerator thermometer. That's because the temperature inside a refrigerator can fluctuate based on how much food is inside, how often the door is opened and how warm it is in your kitchen. A thermometer is the only reliable way to check the temperature. Place a refrigerator thermometer in the center of the middle shelf (not on the door). And remember to check it often to make sure the temperature is right.
Continue Learning about Safety & Preparedness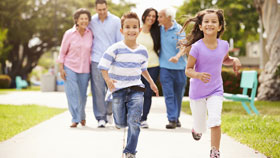 From learning how to keep household toxins away from your toddlers to feeding your family safe foods and ensuring your teens have the right sports equipment, it can be challenging to keep up with all the ways you need to keep your ...
family safe. Get tips on these and a host of other safety and preparedness issues from our experts.
More