Jogging or running (the difference seems to be in the eye of the beholder) offer most of the same advantages of walking—simple, nothing to learn, can be done anywhere—with the additional benefit of increased intensity; you can pack more work into and burn more calories during a limited amount of time. Running may also provide psychological benefits that walking doesn't, at least for the more hard-driving among us, who may feel the need to get from here to there as quickly as possible and that anything less is a violation of the American work ethic. Running works the lower body, like walking, and provides excellent conditioning for the cardiovascular system.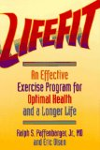 We write about the health benefits of running frequently, but there are several mental health benefits also, including the following:
Run when you are feeling angry or frustrated to burn off the extra energy. Research has shown that nothing relieves stress more than physical exercise.
Running increases endorphins which contribute to a general sense of well-being and mood elevation, so running can make you feel better when you are sad.
Running is an excellent way to fight anxiety. Naturally inducing and recovering from the adrenaline response allows your body to practice recovering from physical effects of anxiety.
If you are feeling lonely or disillusioned with people in general, running on a local trail (like Indy's Monon Trail, Canal Walk or Cultural Trail) will expose you to several people enjoying the weather and/or exercising, as well as dogs and kids and present many opportunities to enjoy and share a smile.
Running gives you an opportunity to experience freedom and can be the perfect escape from stressors, being inside all day or the daily grind when you are feeling trapped.
You can increase your self-esteem and feel empowered by running by accomplishing goals, experiencing what your body can do and re-defining yourself.
Running also gives you an opportunity to escape into your own world, tune out everything else with your iPod, refocus and be refreshed. You may need a break from stressors or people or just to allow your brain to rest.
Jogging can help you live longer, according to a recent study from Denmark. In this video, integrative medicine specialist Dr. Robin Miller shares the details of the study and tips for how to safely run for your life.
Running has many benefits:
Running will help improve your overall cardiovascular endurance.
Running can also help increase your metabolism
Can assist in weight loss
A great way to get away from the stressors of life and enjoy time to yourself!
Inexpensive as little equipment is needed, only a pair of well support running shoes and attire to support your atmosphere
Go out, enjoy yourself!
Running improves blood pressure and cholesterol levels, helps keep weight healthy, strengthens knees and joints and relieves stress. A study of more than 55,000 Americans found that runners live an average of three years longer than people who don't run.
Researchers tracked the subjects for an average of 15 years. Runners had a 45 percent lower risk of dying from heart disease or stroke. They also had half the risk for sudden cardiac death (cardiac arrest). As a group, runners gained about three extra years of life compared with those adults who did not run.
Running is easy and inexpensive. And you don't have to do marathons to see the benefits. Even running at a slow pace one to two times per week can improve your health.
Trinity Health is a Catholic health care organization that acts in accordance with the Catholic tradition and does not condone or support all practices covered in this site. In case of emergency call 911. This site is educational and not a substitute for professional medical advice, always seek the advice of a qualified healthcare provider.
Running is a wonderful way to strengthen your heart and muscles, and can give you some added benefits such as:
It doesn't require special equipment, just sturdy running shoes
You can do it anywhere, anytime, with anybody
It increases your cardiovascular health and decreases your blood pressure
It makes your pants fit better
It builds bone density
It burns roughly 100 calories per mile
It builds confidence
Lace up your shoes and try running around the block, your local track, woodsy trails, around your city or even on the treadmill—just get out and run!
Continue Learning about Running