Lie flat on your stomach with your arms extended over the head. Engage your core and actively pull your arms and legs off the floor and hold them off the floor for approximately 5-10 seconds. Repeat for 5-10 repetitions
Here's how to do the superman exercise:
1. While laying flat on the floor, brace your trunk.

2. Extend your arms above your head.

3. Raise your arms and legs off the floor simultaneously.

4. Repeat ten times.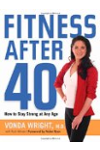 More About this Book
Fitness After 40: How to Stay Strong at Any Age
It's one of the undeniable facts of life. After we reach a certain age, our bodies change. No matter how fit we may have been at 20, we're very different people after 40. But growing older doesn't...
Continue Learning about Running