Root canal therapy can be provided by a dentist or an endodontist. An endodontist is a dentist that has specialized in doing only root canals. If you need a root canal, your dentist can best advise you as to who should perform the procedure. Many dentists provide root canal treatment in their office and refer complicated cases to endodontists.
Root canal treatment is necessary when the soft pulp tissues in your tooth become inflamed or diseased. During root canal treatment, your dentist or endodontist (a dentist who specializes in treating the insides of teeth) removes the diseased pulp. The pulp chamber and root canal(s) of the tooth are then cleaned and sealed.
There are three types of dentists that preform root canal therapy or endodontic. The first and most highly trained is an endodontist. This dentist has been to additional schooling to specialize in doing no other procedure except root canals. All general dentists have done root canals as part of their training and should be confident in treating most teeth that need this procedure. A pedodontist, or dentist that works on kids, will do root canals on baby teeth, called pulpotomies, and occasionally on kid's adult teeth.
Root canal therapy is a dental 'surgical' procedure (surgical removal of the pulpal tissue inside the crown and root of a tooth) that requires a high level of proficiency. It can be performed by a general dentist as endodontics (i.e., root canal therapy) is a part of a dentist's pre-doctoral training and many general dentists have developed a level of proficiency in clinical practice, or an endodontist, a root canal specialist who has received 2 years of additional specialty training in this field. While the endodontist generally has the highest proficiency to treat advanced or complicated root canal cases (e.g., teeth with multiple roots and canals or retreated cases from previous root canal therapy), simple root canal therapy on a single rooted tooth can be completed by most general dentists.
General Dentists and Endodontists perform root canals. Endodontists are dentists who are specialized in doing root canals.
Any licensed dentist may perform endodontic procedures; however, in general, root canal procedures are performed by endodontists and general dentists. Surgical endodontic procedures may also be performed by oral surgeons, depending on the complexity of the case.

While endodontists have additional graduate training, general dentists also can perform excellent root canal therapy. There are times, however, when a patient may be referred to a specialist, depending on the complexity of the case. It is important to understand that when a referral is made, it is in an effort to achieve the best outcome for the patient.
Root Canal Therapy (endodontics) can be performed by general dentists or a specialist called an endodontist. If you are having tooth pain and think you may need root canal therapy, seek treatment from your dentist first. After a thorough evaluation, your dentist will determine if root canal therapy is the best treatment option to save the tooth. If so, the dentist may perform the treatment at the office or decide to refer you to an endodontist for treatment. If this is the case, seek treatment immediately as delay could cause further pain or deem the tooth unrestorable.

Keep in mind, in most cases a crown is needed to cover the tooth and protect it from fracture after root canal therapy is performed. This procedure is done by the general dentist.
General dentists and endodontists perform root canal therapy. In complicated cases, such as a retreatment or calcified/curved canals, your dentist would most likely refer you to the endodontist. Endodontists are specialists with 2-3 years of additional training in root canal therapy.
Most general (or family) dentists perform root canal. Teeth that are difficult to treat may require a referral to a root canal specialist called an endodontist.
Endodontist, root canal specialist performs root canal treatments. Endodontists receive additional years in training in the subject of root canal treatment beyond a general dentist. However, general dentists can also perform root canal treatments because they are also trained in the procedures. Typically more complicated cases such as retreating a previously root canal treated tooth, tooth with bended roots or tooth with calcified (blocked) canals are referred to endodontists.
Every dentist licensed to practice in the USA has been trained to do root canal therapy. Many dentists refer patients needing endodontic (root canal) therapy to specially trained dentists called endodontists. Endodontists normally have two extra years of training in a university setting and may see dozens of patients each month who require root canal treatment, while a general dentist may treat only a dozen patients a year who need root canals.

As a personal choice, I and many dentists like me will treat patients needing root canals when the situation is less difficult than ones requiring specialist care. The final decision to elect specialist care should be the patient's choice made in consultation with their general dentist who is most familiar with their individual situation.
An endodontist is a dentist who specializes in only performing root canals.

Any dentist who has had proper training can perform them as well.
Simply put: a general dentist and endodontist (root canal treatment specialists) can perform root canal therapy. They key is level of confidence, experience and expertise of a general dentist to perform posterior versus anterior teeth (incisors vs. bicuspids/molars.) Furthermore, endodontists are specially trained to handle the simple and complex procedures (multi-rooted/multi-canaled, root curvature, retreatments, apicoectomies, etc.) some good sites for information: visit www.aae.org, or agd.org.
All general dentists receive training in dental school to perform root canal treatment. However, it is up to the general dentist to decide their comfort level in performing root canal treatment depending on the complexity of the root canal system. An endodontist is a specialist in the root canal system. Endodontists receive an extra training to perform root canal treatment. Usually, if a general dentist does do root canal treatment they will refer the more complex cases to the endodontist.
While all dentists receive training in endodontic (root canal) procedures during dental school, an endodontist is a dentist who has received two or more additional years of advanced training specifically in diagnosis and root canal treatment. Because endodontists limit their practices to root canal therapy and root canal surgery they treat these types of problems every day.



Continue Learning about Root Canal Therapy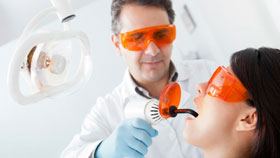 A root canal removes the diseased or infected part of the tooth, and it removes the nerve from a severely broken tooth, allowing the tooth to be saved. You may need a root canal if you have a severe toothache, usually along with s...
welling in your jaw around your tooth.
More