What happens when I don't get enough oxygen?
When you don't get enough oxygen, you literally strangle your cells. It's like putting a noose around their necks, making it very difficult for them to do their job. As hard as they might try, they can't process food properly. They get bogged down, filled with sludge, and you, consequently, run out of energy.

You literally work at one fifth of your potential when you don't get enough oxygen. Your body slows down, gains weight, and becomes even more stubborn about changing.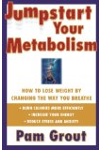 Continue Learning about Healthy Respiratory System
If you are in good general health and not having any specific problem with your breathing, then good respiratory health is a matter of common sense. Don't smoke. Exercise regularly and avoid environments where you might be exposed ...
to toxic fumes or excessive allergens.
More