Cue-controlled relaxation is a combination of deep breathing and repetition of the word "relax."
While you can perform this activity seated, many find that it is easier to do while lying flat on your back on the floor.
Begin this exercise with a slow, deep, abdominal breath.
Place your hand over your abdomen to make sure that it is moving in and out with each breath. After breathing in, hold your breath for 5-10 seconds, and then breathe out, slowly repeating the word "relax." Repeat.
After you are comfortable with this method, you should be able to close your eyes and take a deep breath as above before dealing with stressful situations, such as a doctor's visit, a meeting with the boss, or a discussion with your spouse. This will relax your system and reduce the effect of stressful situations on your pain-provoking mechanisms and headaches.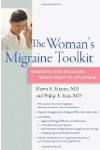 Continue Learning about Relaxation Therapy