Think of it this way: We are who other people say we are. Our selves are constantly being formed by our most important others. Self-esteem comes from relationships and not from the self. Just as we never learn how to love ourselves without loving another first. They work in tandem but if you really want to learn to love yourself, love another well. If you want to know yourself, know another person well.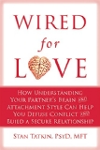 More About this Book
Wired for Love: How Understanding Your Partner's Brain and Attachment Style Can Help You Defuse Conflict and Build a Secure Relationship
"What the heck is my partner thinking?" is a common refrain in romantic relationships, and with good reason. Every person is wired for love differently, with different habits, needs, and reactions to conflict. The good news is that most people's minds work in predictable ways and respond well to security, attachment, and rituals, making it possible to actually neurologically prime the brain for greater love and fewer conflicts. Wired for Love is a complete insider's guide to understanding your partner's brain and enjoying a romantic relationship built on love and trust. Synthesizing research findings on how and why love lasts drawn from neuroscience, attachment theory, and emotion regulation, this book presents ten guiding principles that can improve any relationship. Strengthen your relationship by: Creating and maintaining a safe "couple bubble" Using morning and evening rituals to stay connected Learning to fight so that nobody loses Becoming the expert on what makes your partner feel loved By learning to use simple gestures and words, readers can learn to put out emotional fires and help their partners feel more safe and secure. The no-fault view of conflict in this book encourages readers to move past a "warring brain" mentality and toward a more cooperative "loving brain" understanding of the relationship. This book is essential reading for couples and others interested in understanding the complex dynamics at work behind love and trust in intimate relationships. While there's no doubt that love is an inexact science, if you can discover how you and your partner are wired differently, you can overcome your differences to create a lasting intimate connection.
Most of you probably sense that your relationships are an integral part of your existence. In many ways, relationships determine who you are. Just as a note becomes music through its combination with other notes and a point in space is defined relative to other points, so we manifest ourselves through our interactions with those around us.
As social creatures, we yearn for connection, for the recognition that we are a part of something bigger. However, there is also resistance - a feeling that just as a drop of rain disappears when it falls into the ocean, we too will lose our identity when we merge into the great collective. These conflicting urges create the dynamic dance of union and separation that we all engage in over the course of our lives.
Continue Learning about Relationships and Family