Proteins are found in both animal and vegetable sources. However, each food source contains differing varieties and amounts of amino acids, which are the individual chemical units that comprise proteins. In other words, amino acids are the building blocks of proteins. The terms complete protein or high-quality protein are used to refer to those proteins that provide all of the essential amino acids in a proportion needed by the human body. A couple of the essential amino acids play a critical role in feeding the mitochondria, the energy units of cells.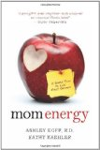 More About this Book
Mom Energy: A Simple Plan to Live Fully Charged
       From celebrated dietitian Ashley Koff and fitness trainer to the stars Kathy Kaehler comes Mom Energy, an exciting new way for moms to tap into their own natural and renewable sources of...
Continue Learning about Protein