How do children spread germs?
You can blame 80 percent of all infectious diseases on "contact spread." That includes direct person-to-person contact, such as touching or kissing, and indirect contact, such as when your child touches a contaminated table, toy, or doorknob and then touches his eyes, mouth, or nose. Since viruses and bacteria can live two hours or longer on cafeteria tables, keyboards, doorknobs, desks, and thousands of other surfaces . . . well, it's a jungle out there.
From The Smart Parent's Guide: Getting Your Kids Through Checkups, Illnesses, and Accidents by Jennifer Trachtenberg.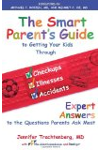 About 22 million school days are lost due to the common cold. Learn more on this topic in this video of Dr. Oz and Dr. Michael Roizen.



Continue Learning about Prevention Of Bacterial Infection
There are many steps you can take to help prevent infection from bacteria. Practice good hygiene, such as frequent hand washing. Fortify your immune system with healthy foods such as fruits and vegetables. Avoid close contact with ...
people who are sick with a contagious infection from bacteria. And only take antibiotics when needed to avoid developing resistance to antibiotics in the future.
More