Older adults can also achieve comparable benefits from dog ownership as are seen in younger folks. For example, a survey of adults 60 years and older showed that dog owners walk more than non-owners and have lower blood triglyceride levels. Pet owners are also more likely to remain active than non-owners.

Senior dog owners enjoy improved physical activity, spending more time outdoors and walking about twice as often as non-owners. Older dog owners also experience less stress and loneliness, better nutrition, and a stronger focus on the present.

Seniors in mobile home parks in central California were asked to take typical daily walks. Dog owners walked once with their dogs and once without their dogs. Walkers carried a hidden tape recorder to monitor conversations during these walks. Non-owners tended to talk about health problems and the past, while dog owners were more likely to talk about their dogs and present day events. Walking with the dog increased the number of conversations about the dog. Walking with the dog also promoted light, social banter with the dog during the walk when not speaking with other people. Therefore, walking with a dog tends to promote a healthier focus on the present and off of troubling health concerns in seniors.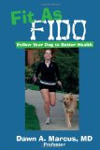 More About this Book
Fit As Fido: Follow Your Dog to Better Health
Let your dog teach you to live a happier, healthier, and more fulfilling life! Companionship with your pet can be used as a means and a motivator to increase your own physical and mental fitness....
Continue Learning about Health Benefits of Pet Ownership