I assumed that all the walking that dog owners have to do might have something to do with the benefit, but studies have not been clear about the reasons. Physician William Osler, one of the preeminent clinicians of the last century, had observed that dog ownership boosted activity and exercise. After some ad hoc research of my own, I agree that the habits of dog ownership promote a healthier lifestyle. After speaking to some dog owners at a local park, I learned that dog ownership promotes other good choices in addition to extra physical activity. Having a dog often means keeping a more regular schedule, including a more regular sleep schedule, that will accommodate the dog's need for regular walks. Also, I learned that dog owners who walk their dogs at the same park often form a social community, providing a support network for dog owners. All of these are factors that can keep your RealAge (physiologic age) younger.
There are several health benefits associated with owning a dog. Having a dog can help you:
Decrease your blood pressure
Reduce your blood triglyceride level
Reduce your stress response
Owning and exercising a dog helps improve your overall health, reduce your weight, and get your heart healthier. Interestingly, owning a dog seems to result in health benefits both from the increased physical activity involved with walking a dog, as well as the social support from simple companionship.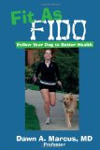 More About this Book
Fit As Fido: Follow Your Dog to Better Health
Let your dog teach you to live a happier, healthier, and more fulfilling life! Companionship with your pet can be used as a means and a motivator to increase your own physical and mental fitness....
There are many long term health benefits to owning a dog. Dog owners are more active due to taking care of dogs and taking them for walks and interacting with them. Dog owners are also happier have higher sense of well-being and feelings of happiness than non-dog owners. Dog owners are healthier and live longer than non-dog owners because of this increased activity and feeling of companionship they have with their dogs.
Research has suggested that dog ownership can help encourage owners to lead more active lives and that canine companionship offers other helpful health benefits like stress reduction. Dog owners may also have healthier blood pressure. It all boils down to this: Dogs -- like humans -- need regular exercise to stay happy, healthy, and sane. And when we exercise them, we exercise ourselves, too. If you're not a dog person, find another good reason to get up off the couch and get your walking shoes on -- whether it's to chase your grandkids, walk to the store every week, or pick up garbage at your favorite park. Find a meaningful reason to walk so you'll do it often.
Who needs a fitness coach when you have a dog? Nothing is more motivational to get moving than a dog's yearning expression that says, "Take me out!" People with dogs exercise more consistently than dog-free people -- and the benefits to your long-term health are many! First of all, you fit in 20 or more minutes of solid walking every day, a low-impact exercise that benefits your heart. You also get your daily dose of sunshine every day, which boosts your mood and supplies you with vitamin D. And you receive the uplifting, stress-busting benefits of being outdoors. What's not to love?
There are undeniable health benefits of owning a dog.
Dog owners are less likely to get heart disease. The main reason: Dog owners generally walk more than non-dog owners. Even if you already have heart problems (if you've suffered a heart attack or have a serious abnormal heart rhythm), owning a dog has been shown to help you live longer than not owning a pet, according to studies. And one study found that owning a dog decreased fourfold the mortality rate connected with having another cardiovascular problem.
Dog owners have lower blood pressure than non-dog owners. Research shows that talking to and petting a dog can have a positive impact on your blood pressure -- more so than human conversation.
Simply petting a dog can lower levels of stress hormones. Just 15 minutes spent stroking your dog releases the feel-good hormones serotonin, prolactin and oxytocin. It also lowers the stress hormone cortisol, says a University of Missouri-Columbia study. All this adds up to the fact that petting a dog is a great depression-buster.
Dogs can reduce your likelihood of obesity. That's due to the increased physical activity of many dog owners. One study found that dog owners walked an average of 300 minutes per week as opposed to non-dog owners (who walked an average of 168 minutes per week). Another study in the American Journal of Public Health found that children with dogs spent more time engaging in physical activity than children without dogs.
Dogs can detect cancer. Pretty amazing, but it's been documented more than once. One case study in The Lancet reported on a person whose dog relentlessly sniffed at a mole on her leg and even attempted to bite it off. When she had her mole checked, it was discovered to be a malignant melanoma.
This content originally appeared on HealthyWomen.org.
Continue Learning about Health Benefits of Pet Ownership