First, the pelvis dictates how the spine rests and moves. The pelvis is the keystone of spinal mechanics. Second, the way the pelvis is oriented also affects the abdominal muscles' ability to stabilize the spine. And third, the way we bend and straighten our spine both affects and is affected by the pelvic and abdominal function.

The pelvis is composed of three bones: the sacrum and two ilia. Each ilium houses the hip socket into which the thigh bone connects to form the hip joint. Where the sacrum meets the ilia is called the SI joint ("S" is the sacrum and "I" is the ilium). The vertebrae are stacked on the sacrum, and their movement is dictated by the sacrum's orientation -- and the sacrum moves based on how the ilia move, and the ilia move based on both how the hip joints move and some other muscles that attach to them. So to make things simple, I just say that the spine moves based on how the pelvis moves.

When the pelvis is in a normal (or neutral) position and moves well, the spine is very happy. It has its normal lordotic curve (the natural inward curve of the lower back), and it bends and straightens easily.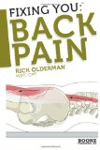 Continue Learning about Parts of The Skeletal System