Depression is a common problem and may appear early in the course of Parkinson's disease, even before other symptoms are noticed. Fortunately, depression usually can be successfully treated with antidepressant medications.
This answer is based on source information from the National Institute of Neurological Disorders and Stroke.
Many patients with Parkinson disease also suffer from depression. In fact, many develop depression before they develop the more typical motor symptoms of Parkinson disease suggesting that the depression is not just due to the disability that patients with Parkinson disease experience.
The treatment of depression in Parkinson disease is the same as for depression in general.
A reduction in serotonin may be part of the reason why people with Parkinson's disease experience depression. Serotonin is a chemical within the brain that helps to balance moods. Some people may think they are depressed simply because they have been diagnosed with a long-term illness, but the depression could be caused by the Parkinson's itself. Knowing this may help people overcome the stigma of getting treatment for their depression.
Continue Learning about Parkinson's Disease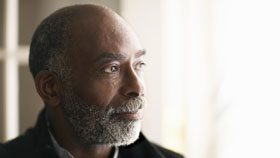 Parkinson's disease attacks the cells which produce dopamine, a neurotransmitter facilitating signals in the brain. Learn more about Parkinson's disease from our experts.