Peer Pressure: A recent Boys and Girls Club of America survey of 46,000 teens said peer pressure was their biggest concern. A Time/Nickelodeon surveys of kids ages 9 to 14 found that 36 percent say they feel peer pressure to smoke marijuana; 36% to shoplift; 40% to drink. Oh and by the way, sexual promiscuity is increasing and at lower ages (the hot 13 year old behavior is oral sex).

Self-Centered or Narcissism (or just call it plain ol "entitlement): Two thirds of parents now admit their kids are spoiled and they themselves are to blame. Don't think you're doing your kids any favor: self-centered kids are not happier and in fact are more prone to be depressed.
Depression: One in 12 teens now suffers from a serious bout of depression. That trend is so serious that the government is now recommending that medical professionals routinely screen all adolescents for depression. But hold onto your hats: depression is now diagnosed in three year olds. Depression is serious but treatable. Step one: we have to recognize those early signs and stop thinking this is only a phase!

Materialism: Despite the recession (and our quest to be more money-conscious), materialism is still rising in our kids. Two-thirds of parents say that their kids ask for specific brands before the age of three. Materialistic kids are less happy, more anxious, less able to handle adversity, less generous, feel less secure and have lower self-esteem. And materialistic kids have lower opinions of their parents and argue with them more.

Stress: Eight to ten percent of American kids are now seriously troubled by stress. Today's youth are nicknamed, Generation Stress. If left untreated stress will seriously impact our kids' health and well-being.

I've spent the last two years devouring child development research and the best parenting solutions that are empirically based. I've just compiled the best of the best research and tips into one volume as a complete reference for parenting kids 3 to 13. It's my book called The Big Book of Parenting Solutions. It's absolutely everything you ever want to know or need to know about raising kids in this modern day age.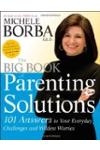 Continue Learning about Parenting