One of the more effective strategies for managing your child's behavior might be called "preventative behavioral management." Knowing what your child is good at and what she continually struggles with, you can begin to channel her energy in productive ways that will prevent behavioral problems from occurring. For example, your child has a basic need to be active and engaged in some form of hands-on project, even more so than other children. You can use this to your advantage. Instead of punishing your child after a behavioral problem has occurred, you can prevent bad behavior by practicing a simple strategy: giving your child responsibility for specific projects that are of interest to her and are helpful to you.

The first transformative principle of this strategy is that, by giving your child responsibility, you are conveying your trust and confidence in her. Rather than making her do household chores as a punishment for bad behavior, you can convey that you are entrusting her with this project, which would be of great benefit to the family. You are framing your request as a reward. For example, if you catch your child engaging in good behavior, you can say that since she is showing so much improvement, you would like to give her the responsibility of a special project.

It is important to be thoughtful about the project you assign, and match the project to something that your child might enjoy. For example, you could give her something broken that could be fixed or at least tinkered with, if she likes that kind of task, or you could ask her to fold laundry or empty the garbage. The second transformative principle of this strategy is that it channels your child's energy, keeping her entertained and occupied in what will seem to her a meaningful activity. This will prevent her from getting in more trouble and will also be calming in itself, due to the sensory, concrete nature of the task.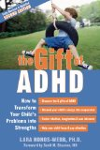 Continue Learning about Parenting