Here is a behavior makeover to squelch one of the most annoying kid behaviors: back talk.
First, catch it early before it becomes a habit.
Second, once you decide to squelch it, be consistent and don't back down.
The very next time your child talks sassy, call him on it: "Telling me to chill is unacceptable. You may not talk that way."
Or "That was rude. Please use a respectful tone."
And then respectfully refuse to continue your conversation until your child talks respectfully. When kids recognize we are not going to give in, they are much more likely to stop talking back. So don't let your child know sassiness works.
You can find more behavior makeover tips in the book, No More Misbehavin' Whatever you try remember to consistently use the method until you do get the change you want.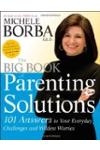 Continue Learning about Parenting