Your child may be exposed to violence and sex at school that you never expected. Kids are exposed to R-rated issues at younger ages so get savvy and prepare yourself so you can prepare your kid. Talk to other parents. And eavesdrop on his friend's conversations. (Carpooling is a great way to get that info!). Kids do need guidance to make sense out of usually false information as well as a sounding board to handle tougher issues like bullying and violence and sex. Here are some tips:

*Begin from the get-go by keeping an open dialogue with your child so he will come to you. You can then make sure that you give him information that is geared to his level of understanding.

*Do believe your child. Kids say they told us "tough stuff" when they were younger, but then stopped when we responded with a "I don't believe it" attitude.
Teach your child the difference between Reporting (trying to keep someone out of trouble) and Tattling (trying to get someone in trouble) in case there is bullying or violence. You and your child should know how to report threats to your school (and please take threats seriously 75% kids before they commit homicide, suicide or violent act tell a peer. Kids are our best safety net.

*Don't ever promise your child you won't tell – you may have to step in and report.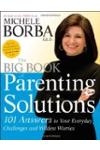 Continue Learning about Parenting