When your child is sick or has an accident, the last thing you feel like doing is hopping in the car to find a twenty-four-hour pharmacy. At home, you want to have a well-stocked (and well-locked) cabinet containing items that can help you handle garden-variety health issues that affect kids. Here's how we'd stock it:
Acetaminophen and ibuprofen (children's Tylenol and Motrin): for pain relief and reducing fevers.
Antihistamines such as Benadryl (diphenhydramine), Claritin (loratadine), and Zyrtec (cetirizine): for allergic reactions and hives. Always Benadryl; the other two are optional.
An antibiotic ointment such as Neosporin or Bacitracin: for cuts and scrapes.
Saline drops: for stuffy noses.
Calamine lotion and hydrocortisone cream: for stings (no Caladryl or Benadryl cream; it's too easy to overdose the Benadryl component in the topical formulation).
Moisturizers such as Cetaphil, Lubriderm, and Aquaphor: for preventing and relieving dry, itchy skin and chapped lips.
Hydrogen peroxide: for puncture wounds and ear infections. Also dissolves ear wax, which can harbor bacteria and cause pain independently. Mix a small amount half and half with water in the cap, then just pour a few drops into each ear; the wax will soften and fall out. Hydrogen peroxide is also good for cleaning bloodstains from clothing, furniture, and carpeting.
Band-Aids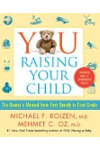 Medicine cabinet must-haves for kids include bandages, antibiotic ointment and wound cleanser; medicines should be limited to those for pain and fever. Watch family physician Gretchen Phillips, MD, explain the necessities to have on hand for kids.
Continue Learning about Parenting