Here are 4 steps to reduce kid's back to school jitters:
STEP 1. Listen to Your Child's School Worries and Anticipate Concerns
Make sure you set aside time to chat with your child. Convey that worries are normal—other kids have the same back to school anxiety pangs and they usually wade away in a few days. Here are a few tips when you're having those talks:
Don't trivialize the fear.
Find a book to help younger kids open up a dialogue.
Offer solutions for worries.
STEP 2. Help Your Child Learn School Routines and Lay of the Land
Boosting your child's comfort zone about a new location and peers helps reduce jitters. Here are ways to help your child feel more secure about a new school or transition:
Visit the school.
Take an online tour.
Print a map and schedule.
Get a school handbook.
Find a buddy and teach how to "fit in." Knowing just one classmate can minimize first day jitters so help your kid learn the name of at least one peer.


STEP 3. Prepare for Separation Before the Big Day
Rehearsing a goodbye can help a younger or more sensitive child feel more secure when the big moment really comes. Here are a few ways that might help.
Create a special goodbye. Practice a special private "goodbye" just between the two of you like a secret handshake or special kiss to help your child start to pull away.
Use a magic pebble. Put a special pebble or keychain with your photo in her pocket and explain that whenever she touches it means you're thinking of her. You could also cut a small piece of a younger child's security blanket.
Give your child an inexpensive watch
. Mark the exact time with a black marking pen you'll return on the dial, and then help your child learn to tell just that time.

STEP 4. Have a Positive Sendoff
A kid's anxiety increases if you make too big of a deal about leaving or draw out the goodbye. The key is to establish a consistent pattern of saying goodbye so your child knows what ritual to expect. Here are a few strategies that might help:
Say goodbye and don't linger.
Stay calm and put on a happy face.
Be on time.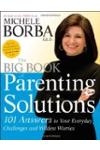 Continue Learning about Parenting