Here is a behavior makeover to reduce your kids bickering and learn to solve their problems without you.

One of the best ways to reduce sibling battles is by removing yourself as mediator, negotiator or problem solver.

1. Teach your kids how to solve conflicts and then expect them to work things out on their own.
2. Let each sibling tell the story. After they've calmed down, ask each kid to take turns explaining their view of what happened.
3. Set talking rules: "Each of you will have a turn to speak but you must really listen. No interrupting is allowed." If you don't understand, ask for clarification: "Could you explain that to me again?" When the sibling is finished, briefly restate her view to show you do understand. "Now I want to hear your brother's side."
4. Encourage cooperation. The next time you observe your children sharing or playing cooperatively, let them know you are proud of their behavior. If the children know you appreciate their efforts, they are more inclined to repeat them.

You can find more behavior makeover tips in the book, No More Misbehavin.' Whatever you try remember to consistently use the method until you do get the change you want.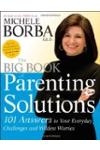 Continue Learning about Parenting