Thomas Lickona believes that questioning is an important parenting tool for enhancing children's consciences. He says that the right kind of questions can help kids expand their ability to take another person's perspective and understand the consequences of their behavior, gradually teaching children to ask themselves, "Is this the right thing to do?" and "What will happen if I do this?" Here are a few questions a parent can ask that enhance a child's moral reasoning: "Why do you think I'm concerned?" "How would you feel if someone treated you that way?" "If everybody in the class always cheated, what would happen?" "If you don't follow through on your word, what do you think will happen to my trust in you?"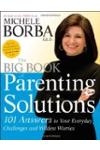 Make sure your kid understand the difference between what's right and what's wrong.
Hold your kid accountable and responsible for choosing right and rejecting wrong.
When your kid does something wrong, help him/her to understand and acknowledge that there are consequences to his/her choices.
When your kid fails, impose a consequence that will teach him/her the importance of choosing to do what's right.
Make sure your kid know that your corrective actions are rooted in love—even though there's a consequence.
As your kid grows older, teach him/her to ask forgiveness and to offer restitution if it's necessary.
Teach your kid to recognize that choosing the right way even though it may seem difficult at the moment is easier than having to suffer consequences of choosing the wrong.
Continue Learning about Parenting