Right before dinnertime, kids tend to get overexcited. They've rested up after school, finished their homework, and perhaps are anxious for a parent to arrive home from work. This is a great time to have your kids help with preparing the meal. Even toddlers can be given a job to do -- something as simple as putting napkins on the table. Older kids can stir the sauce or, with supervision, chop vegetables. Teenagers who like to cook can be assigned one night a week to fix a meal for the entire family.
Make sure the task is age-appropriate (no sharp utensils for little ones). Thank them for their efforts and overlook the less-than-perfect. Who cares if a recipe didn't turn out exactly as planned, or a little milk is spilled in the pouring? Keep the goal in mind: enjoyment and healthy habits.
Kids can:
Tear lettuce up for a salad
Mash yams or potatoes for, as my kids say, smashed potatoes
Snap green beans and pea pods
Shuck corn on the cob
Assemble lasagna, sandwiches, and salads
Read recipes and ingredients aloud to you (a great way to improve their reading skills)
Measure dry and wet ingredients (sneak in a little math while they're at it)
Decorate the table -- paper placemats and crayons are all they need
And finally, do the dishes (but don't expect that to be done without a little resistance)
From Good Kids, Bad Habits: The RealAge Guide to Raising Healthy Children by Jennifer Trachtenberg.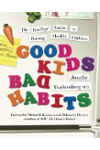 Your children can help with dinner by being initially designated with some fun responsibilities, a little at a time, until self-internalization of the responsibilities takes over. Setting the table, pouring the drinks or helping cook can be great ways to start!
Continue Learning about Parenting