Let your middle kid march to his own drum and not have to hang onto the coat tails of an older sibling. Tap into your middle's child true potential and emphasize each child's unique strengths and true potential. These kids are usually more creative and individualistic. Draw out their natural nature.

Sure, how our kids turn out does have a lot to do with genetics and pre-disposed temperament. But it also has to do with how they are treated by us as well as the experiences they have with their siblings. .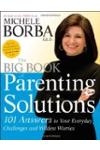 Continue Learning about Parenting

Parenting is both a science and art, requiring a mother or father to understand important issues that affect their children including safety, health, discipline, communication and play.