Breaking the habit of negative self-talk can be done. Children with poor self-beliefs often have bombarded themselves for so long with a steady stream of derogatory messages. Their potential for success is greatly limited, because they don't believe in their capabilities. Self-talk is a critical part of how children acquire beliefs about themselves. One of the most powerful ways to help your youngster develop a firm belief in himself is to teach him to practice positive self-talk. What if you have a child who is a pessimistic thinker or has gotten into the habit of saying negative self-statements?
Helping a child break the habit of using negative self-talk is not easy. Like trying to break any habit, you'll need to be consistent in your efforts to help change your child's behavior usually for a minimum of three weeks. Here are ideas I suggest to help develop a more positive self-picture and reduce negative self-talk.
Develop a Family "I Can" Slogan. Whenever someone in the family said, "I can't," they learn to say to that person: "Success comes in cans, not in cannots." The simple little slogan became an effective way of encouraging family members to think more positively.
Point Out Stinkin' Thinkin'. Create a private signal like pulling on your ear whenever you hear your child say a negative comment in public.
Confront Negative Voices. Gently encourage your child to talk back to his or her negative voice. Explain how he or she can confront their inner negative talk. Use examples like "I remember when I was in school. Sometimes right before I'd take a test I'd hear a voice inside me say, 'This stuff is hard. You're not going to do well on this test." I used to hate that voice, because it would take my confidence away. I learned to talk back to it, so I'd just say, 'I'm a good learner. I'm going to try my best. If I try my best, I'll do okay.'"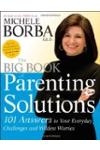 Continue Learning about Parenting