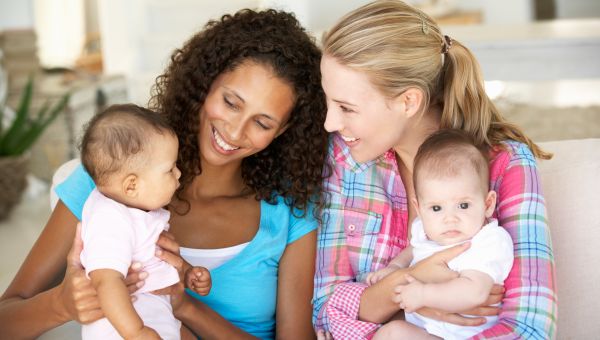 Sometimes it's easy to say very little or just stick to short phrases with young kids because most can't do much talking anyway. But everything you're saying helps your child's emotional development as well as her language development. The best way to talk to your child is by pretending that she can converse. Say things like, "Do you need a nap?" or "It's been a long day, hasn't it?" or "These yams are pretty nasty looking, aren't they?"
Talk to her as if she were filling in the gaps. That will help her recognize language and word patterns that she'll need and use soon enough. Speak slowly and in short phrases, using gestures and facial expressions to reinforce the meaning of your words. Here are some examples of how to involve your child in your conversation:
Say, "Do you think the doggie is hungry?"
Instead of, "I'm going to feed the dog now."
Why? Because questions initiate conversations and engage children with changes in inflection.
Say, "Doesn't dirt look cool close-up? Just try not to get any in your mouth, because it tastes yucky and can give you a tummy ache."
Instead of, "If I have told you once, I've told you a thousand times not to eat dirt."
Why? Because positive observations encourage curiosity; negative commands stifle it. Also, explaining the consequences of an action gives a child the knowledge she needs to make the correct choice on her own in the future.
Whenever you're out, be one of those pointer-outer parents. Point to things you see, hear, and smell; teach your child about the world. This applies wherever you are, whether it's in nature or at the mall. It's also really helpful to show your child how things change: Leaves change color, flowers bloom, batter turns into cookies, and so on.
And remember, your child takes most of her cues from signals that you send her through your body language or your expressions. Words simply convey information. Emotion gives it meaning. In fact, more than 90% of what your child "hears" you say comes from nonverbal communication. The total impact of parental messaging breaks down like this:
7% verbal (words)
38% vocal (volume, pitch, rhythm, and so on)
55% body movements (mostly facial expressions)
That's why communicating emotion is at the heart of smart parenting. Try these techniques:
Make eye contact. It opens the flow of communication and conveys interest, concern, warmth, and credibility.
Be expressive. Authentic facial expressions convey warmth, happiness, friendliness, and bonding. Don't forget: Smiling is contagious.
Use gestures. Being lively and animated captures kids' attention and facilitates learning. Head nods, for instance, communicate positive reinforcement and indicate that you are listening.
Check your posture and body orientation. The way you walk, talk, stand, and sit speaks volumes to your child. Standing erect, but not rigid, and leaning slightly forward sends the message that you are approachable and receptive.
Vary your voice. Droning on in a monotone is boring. Mix up your tone, rhythm, inflection, and volume to keep your child's interest.
Medically reviewed in January 2020.