As a parent, you'll be many things to your child. You'll be teacher, hero, playmate, body washer, chef, coach, milk cleaner-upper, banker, chauffeur, and on and on and on. Heck, parents have more hats than a Kentucky Derby grandstand. But starting from the moment you knew you were having a baby, one job has trumped all: protector.


When your babe was in utero, Mom's body served as the biological Secret Service, protecting her against all threats from the outside world. And then after she was born, the job expanded and became much more complex. Your urge -- really, your instinct -- is to do anything you can to protect your little one from harm, whether that threat comes in the form of a slippery staircase or a bully's nasty words.


Keeping a child safe can be one of the most delicate balancing acts a parent has to perform. On the one hand, your responsibility is to provide a safety net, but on the other hand, you know logically that you can't bubble wrap your kid for life (as funny a Halloween costume as that might be). You have to let them explore the world -- discovering, creating, taking risks -- because that's how they're going to learn and grow. But this is hard to do. At some point, they're guaranteed to get hurt, even if it's only a scrape or a bruise.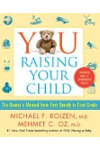 Continue Learning about Parent-Child Relationship