A good way to evaluate the effectiveness of whichever therapy you choose is by my 15-50 rule of response. If the therapy you are engaged in is appropriate and helpful, then every fifteen days you should be able to appreciate a 50 percent improvement of your neck and back pain. For example, after the first fifteen days, you should feel 50 percent better; fifteen days later, you should feel another 50 percent better (a 75 percent overall improvement after thirty days); and you should feel an 87 percent improvement after forty-five days. This is a generous yardstick, and if your therapy is not meeting these minimum levels of improvement, it is probably ineffective. Although "Do no harm" is always the first principle in any treatment regimen, "Do some measurable good" must also apply. A proficient doctor or therapist will always find the exact spots to target. And although it may take a few visits to open up communication and zero in, your results should reflect that level of dedication. Never, ever settle for general procedures or marginal results.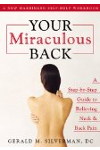 A skilled Physical Therapist should be aiming to reduce any pain or functional limitations that your neck and back pain are causing you. This can include general range of motion, such as turning your head or bending forwards to tie your shoes, to helping you achieve the functional and recreational goals you have such as working, sitting, walking, sports-specific rehabilitation.
One thing to consider, is to have a Physical Therapist that also looks for long term treatment strategies that will help reduce/prevent the amount of recurrence of back or neck pain. Statistics show that patients with low back pain have up to 70-80% chance of re-injurying their back 1 year later. Further studies show with some specific muscle training in the core, that the recurrence rate of low back pain can be reduced to 35-40%.
Using reduction of pain as the only indicator of progress should not be the only thing to focus on. Many times pain in the back and neck can be reduced with rest and light exercise. Its the recurrence rate and limitations in work, functional activities, and sports that skilled Physical Therapy really needs to come into play. A Physical Therapist's techniques should focus on reducing pain, and quickly transitioning to improve these limitations and possible reinjury.
Fortunately, because the body's natural state is to be pain free, positive results will happen quickly (after just a couple sessions in most cases). Positive results can include less pain (of course!); greater range of motion, greater ease of movement, or more time spent doing an activity before pain begins.
For the patient, recovering from your pain is not a passive process. Your job is to be able to assess how you feel and follow the instructions of your practitioner. You must also communicate with your health care practitioner so they can adjust your treatment appropriately--especially if your treatment increases your pain.
So if you're aware of the whether your function is improving or not and/or pain is decreasing or increasing and you communicate this to your practitioner, you should know whether therapy is working for you in a relatively short period of time.
Continue Learning about Pain Treatment